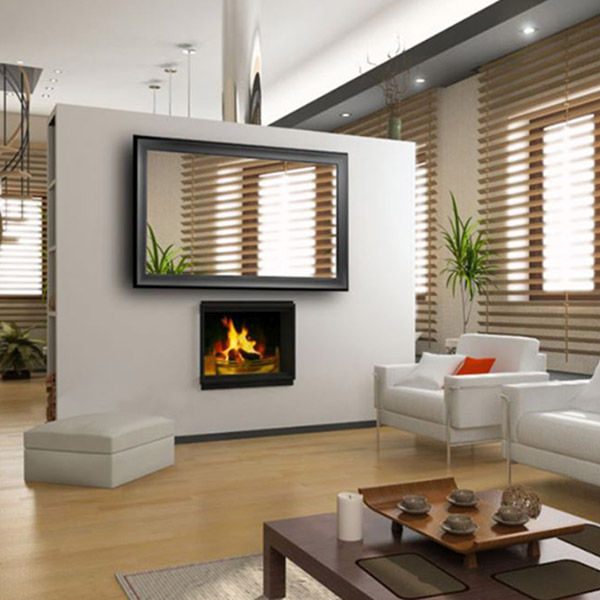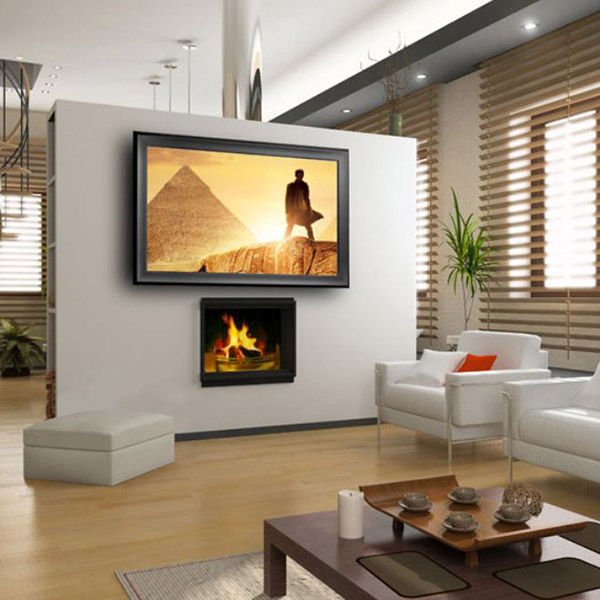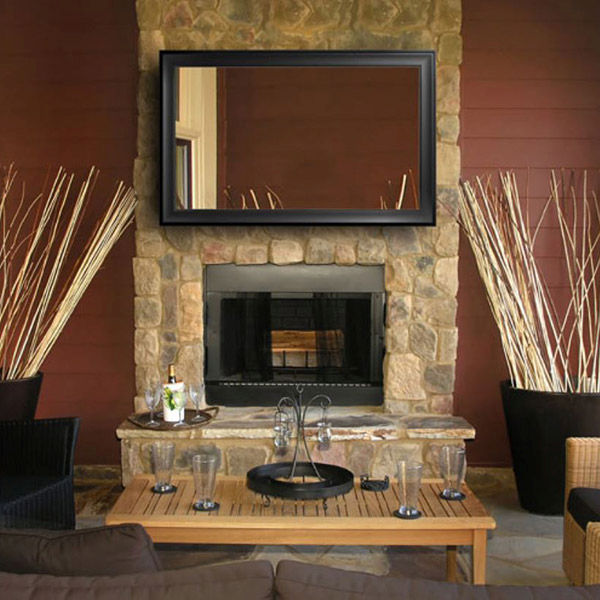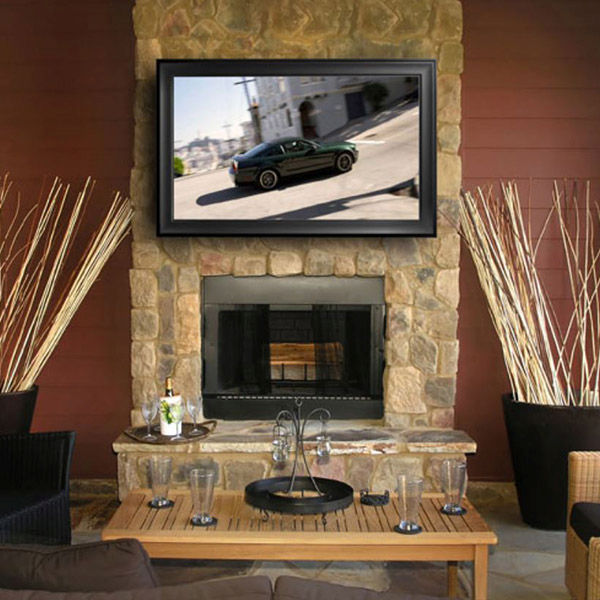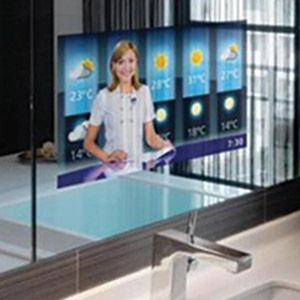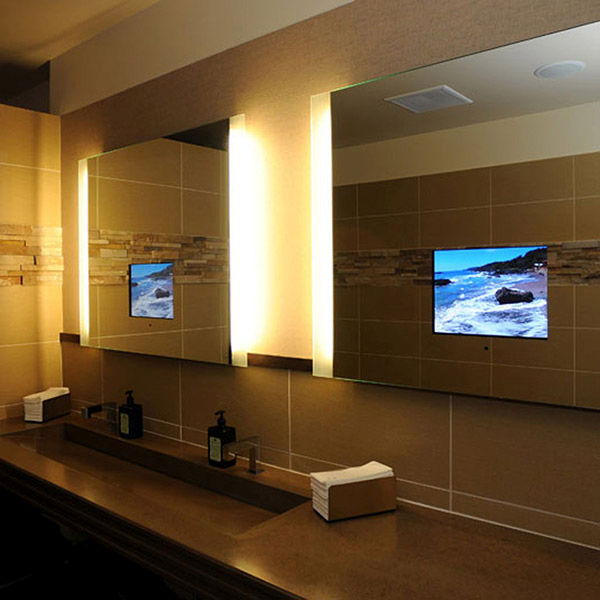 TV / Frame Packages
Packages Include: Frame, Mirror, TV & Wall bracket
Complete Packages start from Just � 1249
Over 300 frame styles
Any LCD, LED, OLED, QLED tv
Top brands like Sony, Samsung, LG, Panasonic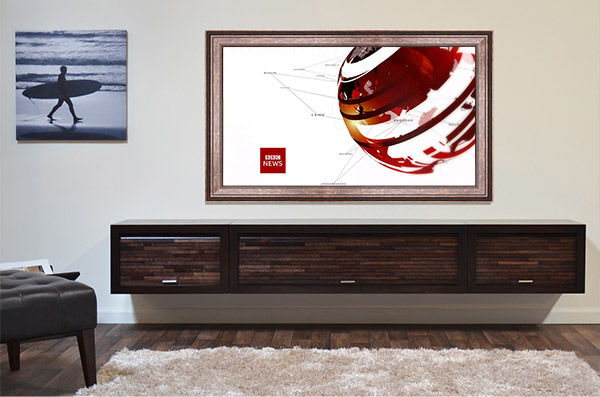 What are TV mirrors?
Walking into someones living today, you would almost certainly spot the large flat screen tv either in the corner or on the wall. However, not everybody cares about this look too much, they would prefer their room to look uncluttered and free from a large TV overpowering their beautiful décor.
Well, this is where TV mirrors come in. TV mirror is a very special type of two-way mirror but unlike a standard two-way mirror, TV mirror, is specially coated to allow much more light through, as so the picture on your TV.
But when your TV is turned off, the blacked TV screen reflects little or no light, causing the TV mirror to revert back into a perfectly clear mirror once more.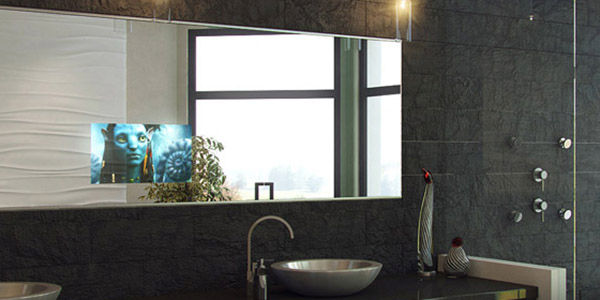 Where are they used?
You'll now find these clever mirrors more and more in everyday location as well as home environments, hotel rooms, bars and restaurants in particular. However, the trend for using these mirrors around the home and for interior design is growing every year.
How does TV mirror work?
Without giving away too many trade secrets, these mirrors work on the light differential allowed to pass through their special metallic coating and no electrics are required.
When the TV is off, no light is being emitted from the TV screen, quite the opposite, in fact, the black screen is absorbing all the light and reflecting none. Therefore, the ambient light in the room becomes the main source of light, which in turn bounces off the coated mirror surface, showing you a clear mirror reflection.
When the TV is turned on the magic happens, the light from the TV is allowed to pass through the mirror almost like a clear sheet of glass. Showing a bright picture of your favourite TV programme.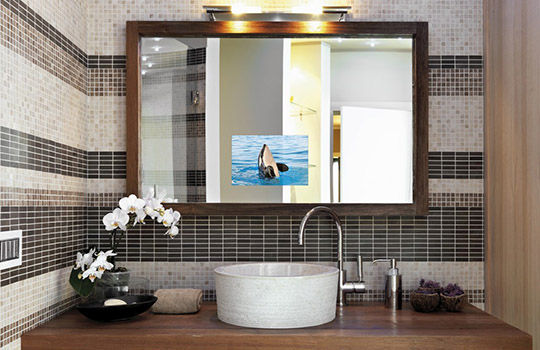 TV Mirror Variation
There are many variations of two-way mirror and even a few options for TV mirrors, so it?s important to choose the right one for you and your situation.
Mirrorworld offers a choice of three two-way mirrors dedicated to TVs, Ultra Standard, Ultra Plus and Ultra Silver and Ultra Clear.
Variations

Ultra Silver - Superior Mirror Quality, limited transmission.
Ultra Standard - Good Mirror Quality, high light transmission
Ultra Clear - Superior Light Transmission.
Ultra Plus - Optimum Mirror Quality and Light transmission offering the best of both worlds.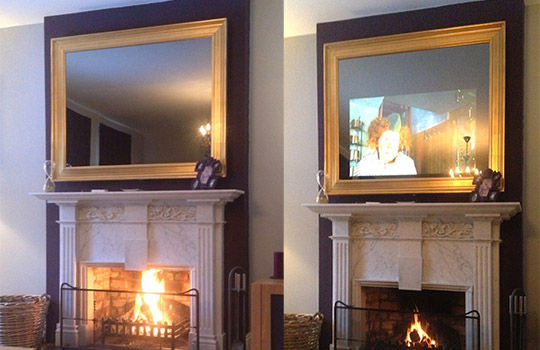 Framed or Unframed
Put simply the choice is yours, you can select any of our two-ways mirrors to be made almost any size you need. Architects and interior designers alike, choose this option when creating a concept of their own making. Or, Why not choose from our unprecedented range of frames and let us create a beautiful framed mirror for your TV.
Please note, we are not a TV company, a TV purchase and final installation will be something you need to bear in mind. Our experienced team are always on hand to advise.
More TV mirror information and TV mirror advise can be found here.